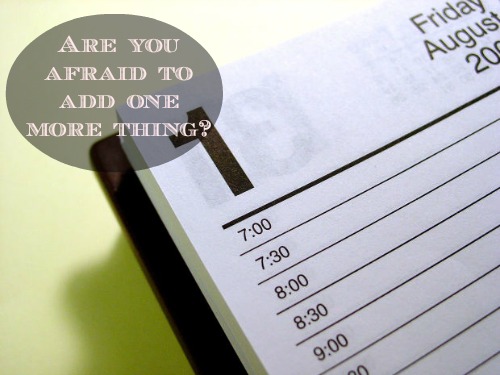 Have you read through all The Healthy, Happy, Sane Teacher materials and thought, "YES, you are talking about me! I want to be healthier, happier and saner."
BUT….
Is something else holding you back from pressing the registration button?
Is that something the little voice in your head saying you just can't add one more thing to your already jam-packed life?
Is that voice saying to just hold on?
Is that voice saying things will get better if you just keep doing what you have already done?
Here's the thing, friends. It's not going to get better. Not unless you do something different from what you've done before.
We get it. We kept hoping things would get better on their own too. That if we just held on and worked harder, things would get better. But the reality is nothing got better until we did things differently.
We'd like to share what we've learned with you. So you can do things differently.
The idea behind The Healthy, Happy, Sane Teacher is that with a bit of a time investment up front, your schedule – YOUR LIFE – will feel less overwhelming.
In the same way that long-term – semester or whole year – planning can help guide your academic year with your students, HHST can help you find the you-time during the busiest time of the year.
How?
Just that – long-term planning.
The reality is taking time at the beginning of the year to plan for your health, happiness and sanity can help create a healthier, happier, saner school year and LIFE.
Here's your chance to change how your school year goes, to start and END the year with enthusiasm and energy. To feel healthy, happy and sane.
Let's talk logistics of the program.
Once a week phone calls: 60 minutes. The call time doesn't work for you? That's ok! We'll send you the recordings the following day for you to listen when it works for you. Maybe you listen on your morning walk, on your drive to school or on your prep. It's up to you.
The 

calls are designed to be fairly philosophical (why we think doing X is 

important given our experience, the research) and instructive (how to use 

the tool, what the shades of grey might be with it, and the possible 

outcomes) and so, while they are live, it is not the 

discussion that drives them which makes listening live not imperative.
A weekly playbook that arrives in your inbox on Fridays, letting your read them and do the simple but impactful Healthy, Happy, and Sane assignments over the weekend.   Many of the exercises take less than 20 minutes.  Some can even be done at school or even worked out in your mind during your commute!  All of them are designed to be manageable while creating room in your life.   
The bottom line is nothing is going to get better unless you do something differently and it would be our honor to work with you if you would like support in making it easier.
If you enjoyed this post, get email updates (it's free).