Dear Friend,
Summer.
Just saying the word elicits a certain feeling.
Though I loved school so much that I became a teacher, I have always wholeheartedly welcomed summer. There is just something about the possibility of summer, the way its days are a blank canvas to mold into what you most want, what you most need. But for too many summers, my excitement about what might be possible in a summer was never fully realized.
Then, in 1995, I learned a powerful tool that changed how I approached summers and how I am hoping to help my son approach summers. Like several summers before (and many after), I was working at a holistic residential summer enrichment program for high school students called Love of Learning. The program always began with a very intense, often emotional staff retreat to help us form bonds and make plans that would enrich our work.
Usually, the retreat included the writing of personal mission statements and manifestos (and thus my belief in the power of both was born), exercises meant to help us capture our values and gifts in a way that would allow them to be our guide as we did our work. These sessions were the highlight of the retreat for me, always making me feel inspired not just by my own statements but awed by those of my co-workers.
One of my closest co-workers was a dear friend who was a year behind me in school. This particular year, he included part of Rudyard Kipling's If poem in his statement and my mouth rounded into awe as he added the words from the top of his head while we worked together in the corner, a pile of candy between us.
"Dude, how did you know that?" I asked, impressed.
And that's when he shared about the coolest parenting strategy I've ever heard.
Every summer that he was growing up, his parents sat him down and said, "what all do you want to do this summer?" And he would come up with this super list:
go to the local amusement park
check out a pro or semi-pro baseball game
have a friend spend the night
camp out
go to the beach
go fishing
 Basically, the stuff of summer dreams.
 Then they said, "what do you want to learn or experience this summer" and that list would read like:
learn how to throw a football spiral
identify 5 insects
write Grandma three times
read Tales of a Fourth Grade Nothing, etc.
 Then his parents would add their own things to the learn or experience list like:
Memorize Rudyard Kipling's If
Volunteer, etc.
 Next, they'd line up each experience with a reward.
 Write your grandma three times, you can go camping.
 Memorize Kipling's If and you get to go to a baseball game.
 And so on.
Those lists hit the refrigerator and then it was up to my friend, by being intentional about how he spent his time, to make things happen. If he did what was on the "to experience" list, he earned what was on the "to do" list.
Hence, more than a decade later, he still had If (a great poem for a kid to know) in his head.
Intentionality matters. Needless to say, the idea of capturing what I wanted to do and experience over the summer- a master to do list if you will- thrilled the girl who always kept a day to day to do list.
Now, my family has our own version of this tradition that we call Summer of Intentionality. During Memorial Day weekend, we sit down and brainstorm a master list of things we want to do over the course of the summer as a family and things we think are great for our son to try or do (like learning how to make his own peanut butter and jelly sandwich or going through his toys and donating some). While we're at it, I make my own personal list that includes some fun things that I want to do and some bigger work to dos that I've been dreaming about getting off the ground but that my teaching schedule prohibits during the school year. When we're done, we transfer the lists onto butcher paper and hang them prominently in our home. As each item gets completed, we cross them off our lists. For items with multiple parts (like read 100 books), we keep track of them in a journal until we've completed them and then check them off the master list. These master lists work whether or not you have kids and no matter your kids' ages. As Happy gets older (I am thinking either the summer after Kindergarten or the summer after First Grade), we will likely move to the "earn your adventure" approach.
Today, I want to encourage you to create your own Summer of Intentionality dream list for you or your whole family.
What do you want to learn, do, experience, enjoy?
Capture all your wishes, make plans, and then get started having a summer that lives up to your hopes with the caveat that not necessarily every single thing will be crossed off the list, but you are far less likely to get to the end of summer and think, "I wish I had made better use of my time."
We would love to hear from you. How will you be spending your summer? Leave a comment and let us know about your summer plans.
And as always, if you have questions for us, please let us know.
With much adoration,
 Rosie (and Tami)
 PS – If this message resonates with you, please let us know what spoke to you. If you know someone who might like it, please forward it to a friend.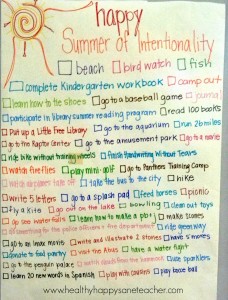 If you enjoyed this post, get email updates (it's free!).