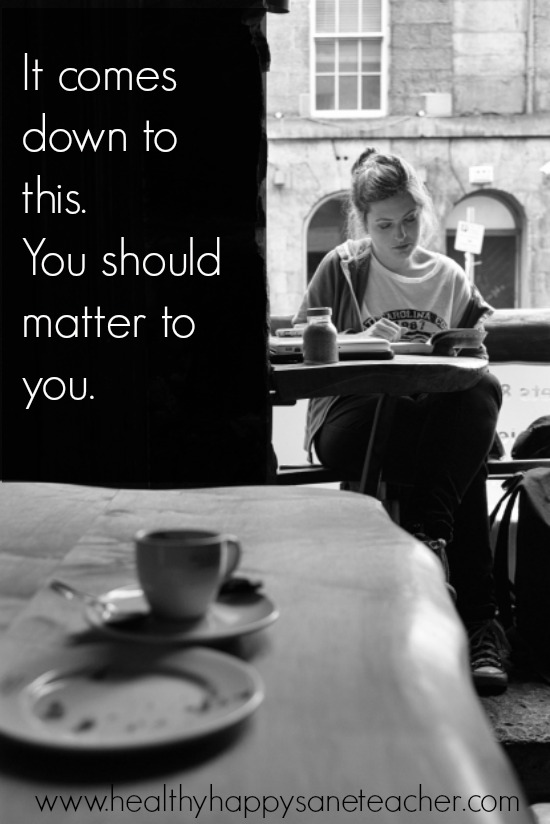 What if I told you that you could only hang out with one friend for the rest of your life?
One friend is all you get to see you through everything—the birth cries and the death cries, the celebrations and the losses, the laughter and the tears.
One friend.
Choose carefully.
And, now, what if I change your understanding of both the rules and the reality of this situation.
What if I tell you that this is really true? Not just a game or a fun dinner time "answer this question" type deal.  There really will be just one person that walks alongside you throughout your whole life.  There is going to be one person there for everything.   And she has already been chosen.
She is you.
Do you treat yourself as well as that friend you chose?  Do you give yourself as much self-respect and patience and care as that friend gives you, as you give that friend?
Do you matter to you as much as much you matter to that friend?
Because the truth is—and, look, I know this is a hard truth, I know it is an uncomfortable truth but both those things do not make this any less true- that, in the end, you will be all that you've got.  But way before that, even, you are the only one who is alway with you.  You are the most immediate person you've got.
And you should have your own back.
You should believe in you, respect you, care for you, treat yourself well.
You should matter to you.
Because, really, what could be worse than spending the rest of your life with a bully, a mean girl, a troll, an insensitive or disrespectful drag?
I really can't think of anything.
So, I want you to realize that you are all that you've got in any given moment, in every given moment.  Let the truth of that shift something in you.  Let it bring you home.  To you.
We don't have the kind of time left to keep being mean to ourselves.
We don't have armored souls that make those barbs not matter.
We don't have the luxury of doing the type of damage in minutes that will take years, decades, a lifetime to undo.
What we have are these beautiful spirits, longing to be free.  And they can't be free- really free- until they know that they will be safe in the world.
Make your soul that promise.  Welcome its authenticity into the world.  And then relish in it, make up for lost time, and move forward inspired by your newfound loyalty and reverence.
If you enjoyed this post, get email updates (it's free).
Orginally posted at www.rosiemolinary.com